The podcast for Indelible, a documentary in progress for the week of February 20, 2019.
After a long hiatus a podcast on my reasons for my commitment to this project. Why would anyone continue on a project amidst such danger and suffering? I am constantly asked this. And in December I had to seriously ask myself the same question as I came to a point where I really wanted to survive. And I wanted to thrive. Was this ever going to be possible again?
Finally a few days ago after being asked more questions, I had my answer.
Left: Training, Vietnam. Right: Chow hall at DVI, (Duel Vocational Institute), in Tracey, CA.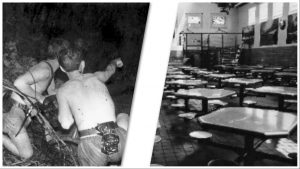 Podcast: Play in new window | Download (Duration: 15:50 — 14.0MB)
Subscribe: Apple Podcasts | Android | RSS