This slideshow requires JavaScript.
These are past roads, past works.
***still in process of uploading…
"Always a nomadic crossing; Yet in-between we fold; One thing into the other."
For a while I thought of artist's work—of my work—as a type of Foldology which I defined as nomadic. I was often involved in making difficult and lengthy journeys into complex disciplines such as science, engineering or finance, learning what I could along the way. Afterwards I crossed back into the studio to create work based on these experiences. I believed this activity of carrying information across the boundaries of specialized fields was what artists did best. It was a kind of service. It was being a specialized pack animal who carried the seeds of information into new territories, as animals do when they eat fruit and carry the seeds into new lands.
Economy.We | A series of projects on the Economy.

Body.Tech.Sci | Work addressing Biology, Science and Technology


Images | I make images sometimes.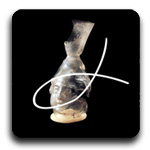 Conflict.Not | Attempts to Diffuse or Address Conflict.

Sketches | Faint things, I have not yet completed, but still carry with me.